Finding the perfect hot tub for a tall person can be a challenge, as they often struggle finding one with optimal depth and size. This article will help guide you through the process of selecting the right hot tub for your needs by providing insight into which features and sizes you should look for when shopping for a tall person's hot tub.
Specifically, we will deep dive into important considerations such as overall size, available upgrades and extras, seating height and format, hot tub loungers, seating arrangements, wet tests, energy-saving features, and warranties.
Finally, we review a few important details about the best hot tubs for tall persons that are sure to meet your requirements. By the end, you should have all the information you need to make an informed decision about which hot tub best fits the unique needs and preferences of tall persons.
Short Summary
When selecting a hot tub for a tall person, important factors to consider include overall size, depth, seating arrangement and wet testing for adequate legroom.
The Tundra by Arctic Spas is the ideal choice for taller individuals due to its overall size and flexible seating options, while the Jacuzzi J-465 offers multi-level seating with plenty of legroom and a long lounge seat.
Hot tub upgrades and extras can enhance comfort, relaxation, and entertainment experiences, while its appearance should be chosen to fit individual aesthetic.
What to Consider When Buying a Hot Tub for Tall Person
Dimensions are a critical factor to consider when selecting a hot tub for a taller person, of above-average height, as a hot tub that is too small will not provide adequate legroom for them to relax comfortably. Depth is of utmost importance when selecting a hot tub for a tall individual, as a hot tub with shallow seats will not provide adequate space for their legs, thus resulting in discomfort and diminishing the efficacy of hydrotherapy.
The arrangement of seating is of paramount importance when selecting a hot tub for a tall person, as hot tub seats fits them that are too close together or too narrow will not provide adequate space for their frame, leading to discomfort and diminishing the efficacy of hydrotherapy.
Wet testing is imperative in the hot tub good order to ascertain whether the hot tub provides adequate legroom and comfort for a tall individual. It is the only reliable method of determining if the hot tub is suitable for a tall person.
Overall Size
A larger footwell and varied seating options provide greater comfort and flexibility for taller individuals. The Tundra by Arctic Spas is the recommended option for those of a taller stature.
This hot tub offers a deep seat to accommodate taller individuals, as well as four deep bucket seats and a large footwell for additional legroom. This hot tub also boasts a massive interior, a pretty long lounge seat, and fixed shape, making it incredibly roomy and providing adequate length for taller individuals.
Depth
Tall individuals must ensure that the hot tub they choose has adequate depth to ensure that their entire body is submerged in the water. The overall depth of a hot tub is the measurement from the top to the bottom, whereas the seat depth large enough hot tub is the measurement of the seating area.
The installation of plumbing and insulation can occupy space within a hot tub, thereby diminishing the overall depth and seat depth. It is generally advised that only seats in a hot tub intended for tall individuals should have a depth range of between 35-40 inches.
Seating
The seating height is more essential than the depth for tall individuals in hot tubs as it permits them to completely immerse their shoulders and neck, which is indispensable for relaxation and hydrotherapy.
The Grandee by Hot Spring is the recommended hot tub for those of a taller stature requiring multiple seating options. Adjustable seating provides individuals of a taller stature the opportunity to choose the most suitable seat for their height which can accommodate more room for individuals of varying heights.
The Caldera Cantabria is also recommended for tall individuals with varying seat heights. The total depth of the Grandee by Hot Spring is 38 inches.
Hot Tubs with Loungers for Tall People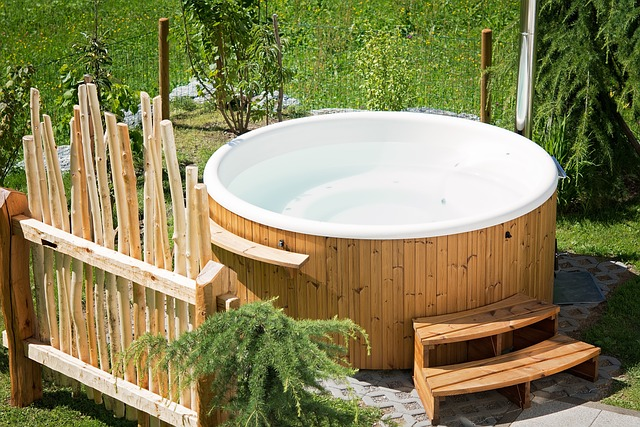 Hot tub loungers can be challenging for tall individuals to use, as they are typically molded in a single position. This can make it difficult for taller individuals to fit comfortably in a relaxed position in the lounger, as their legs may be too long for the lounger and thus forced into an uncomfortable bent-legs position.
One such hot tub that can accommodate tall folks specifically is the Jacuzzi J-465. This hot tub has a large enough capacity to fit several tall people comfortably and its deep bucket seats provide plenty of leg room. Additionally, its multi level seating provides limited range of versatile seating options, and its pretty long lounge seat allows tall folks to recline in a more comfortable position.
This makes the Jacuzzi J-465 an ideal option for tall spa owners.
The Best Round Hot Tub for Tall People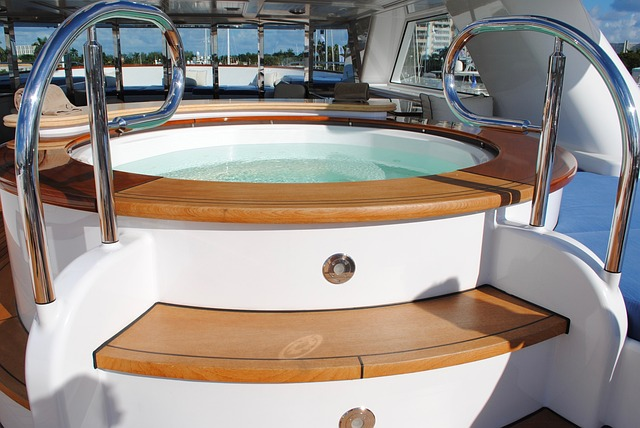 Round hot tubs offer a number of advantages to tall people, providing ample space to stretch out and unwind while also boasting a classic aesthetic. The Crown XL by Nordic is a great round hot tub for tall people, featuring whirlpool therapy and flexible seating that make it an ideal choice for tall folks. Wooden hot tubs are also a great option for tall folks, as they can be custom-crafted to a depth of up to 5 feet and are equipped with sturdy benches that can accommodate taller frames. Furthermore, many tall spa owners have found that the pretty long lounge seat in many hot tubs fits their tall frame perfectly.
One such spa is the Master Spas hot tub, which boasts a spacious interior, allowing for comfortable seating for up to six adults or seven people. It is also large enough to accommodate a tall family or group of friends. In addition, inflatable spas and hot tubs also provide a great option for taller people, as most inflatable spas and hot tubs come with a longer seat that can fit taller people.
Get a Free Hot Tub Price Quote
A free quote is essential when considering the purchase of a hot tub, as it can provide an accurate estimate of the cost of the hot tub. Obtaining a complimentary quotation is a simple process; simply contact a local dealer or visit their website to request a quotation at no cost.
When evaluating a warranty, it is important to consider the duration of the warranty and the details of what it covers, as outlined in the fine print. The hot tubs examined in this article span from 3 person to 8 person (seats) in capacity. Hot Springs, Coast, Marquis, Caldera, Sunrise, and Free Flow are the hot tub brands with authorized dealers in the vicinity of Southeastern Pennsylvania. ThermoSpas offers a comprehensive warranty for a period of ten years from the date of purchase for all of their models.
Prices for all the different seats of hot tubs in question range from mid-range to luxurious. The price range for ThermoSpas tubs is from $4,000 to $22,000. Warranties provided by the most highly rated hot tub brands can span from one year to a maximum of 35 years. The PDC luxury range of hot tubs provides a 35-year warranty. This warranty coverage provides assurance that assistance is available should any problems arise.
Hot Tub Upgrades and Extras to Consider
Hot tub upgrades and extras can provide increased comfort and enjoyment. Smart features, such as touch screen controls and smartphone compatibility, can significantly enhance relaxation and entertainment experiences. Energy-saving features, such as dimmable lighting and SmartJet controls, can prove beneficial in terms of reducing electricity costs. Self-cleaning programs, such as ConstantClean technology, can be instrumental in ensuring a clean and hygienic bathing experience with each use.
When considering hot tub upgrades and extras, it is important to assess the current needs and wants of the individual user. For some, additional LED lighting may be a desirable feature to create a unique atmosphere. For others, an upgrade to a larger or more powerful jet system may be desired to ensure a powerful massage. Many hot tubs also come with a variety of seating options, such as loungers or built-in seats, that offer a comfortable and relaxing experience for tall spa owners. Additionally, many tall spa owners may opt for custom upgrades to their existing hot tub, such as larger hot tub shells or hot tub seats that fit their body size.
Inflatable hot tubs can also be a great option for tall spa owners. These models are usually much more affordable than traditional hot tubs, and they often come with a variety of features that can be beneficial for tall people. Some inflatable hot tubs even offer unique features, such as built-in massage jets or bubble systems, that make them a great choice for those looking for a relaxing and enjoyable experience. Hot Spring, a leader in the inflatable hot tub industry, has a variety of models that are perfect for tall spa owners, with the added benefit of being one of the best round hot tubs on the market.
Hot Tub Appearance
Aesthetic plays a part in the soothing effects of a hot tub. It can help to cultivate a tranquil ambiance and augment the overall experience. Hot tubs come in a variety of shell and cabinet styles, including acrylic, rotomolded, and inflatable shells, as well as wood, synthetic, and metal cabinets. It is essential to select a style that is in line with your individual aesthetic and preferences. Different types of hot tubs may also offer different features and benefits. Hot spring models, for example, may come equipped with hydrotherapy jets meant to provide a more intense massage experience. Sundance models may include extra feet jets for an even deeper massage. Catalina spas or Square spas may be the best round hot tub option for tall people because they are large enough to accommodate taller individuals. Inflatable hot tubs, while not as durable as other options, may provide a comfortable seating option for many tall spa owners.
No matter which type of hot tub you choose, it should be visually appealing to you. From the hot tub shells to the seating and even the water temperature, all these factors should align with your vision for your ideal hot tub experience. Taking the time to wet test one such spa and view it in person can help to ensure that it is the right fit for you. Many hot tub companies offer the opportunity to try the hot tub before purchasing, so take advantage of this opportunity to get a feel for the new hot tub here's appearance and features. Arctic Spas, Master Spas, and Hot Spring Envoy are just a few of the many hot tub brands that offer excellent quality and long-lasting performance. These brands also offer a wide range of hot tubs to choose from, ensuring that you can find one that fits your style and looks good.
No matter which type of hot tub you choose, its appearance should be a primary consideration. Whether you opt for one of the best hot tubs, the most inflatable spas, or a new spa, the appearance should always be taken into account. With the right hot tub, you can create an inviting atmosphere that will help you relax and enjoy the therapeutic benefits of your hot tub.
Summary
Finding the best hot tub for tall people can be a challenge as traditional one-size-fits-all hot tubs are not designed to comfortably accommodate all body sizes and shapes. Hot tubs specifically designed for taller individuals are available, however, that provide ample legroom and comfortable seating arrangements for added satisfaction. When selecting a hot tub for a tall person, it is essential to consider four main qualities: overall size, depth, seating and hot tub upgrades. In terms of size, the Tundra by Arctic Spas is the ideal choice due to its overall size and flexible seating options. With regards to depth, hot tubs should have a depth of between 35-40 inches, while adjustable seating options like the Grandee by Hot Spring and the Caldera Cantabria are recommended for finding the right fit for your height. When looking for a hot tub with loungers, the Jacuzzi J-465 is a great option. The Crown XL by Nordic Woods, Master Spas hot tub, and inflatable spas and hot tubs are excellent choices for those seeking a round hot tub. It is also important to consider most hot tubs appearances to ensure it creates an inviting atmosphere for relaxation. Furthermore, extra features, such as energy-saving, self-cleaning programs, additional LED lighting, larger or more powerful jet systems, various seating options, and custom upgrades, can enhance comfort and entertainment experiences. Finally, you can acquire a free price quote from local authorized dealers to compare prices ranging from mid-range to luxurious. Ultimately, with so many factors involved in choosing the best hot tub for tall people, evaluating their individual needs and researching their options will help them decide on the perfect hot tub.
Frequently Asked Questions
How deep is a hot tub?
Hot tubs usually have a depth of 31", with 36" walls and a maximum height of 42". They can be as shallow as 24", but it's not recommended in order to provide a safe experience.
Overall, the average hot tub stands at 36" high and provides a reasonable depth for soaking.
How deep are hot tubs?
Generally, hot tubs are approximately 36" tall with a depth of around 31". However, the depth may vary and range from 24" to 42" depending on the model or type. All in all, the average hot tub has a depth of 31".